Taking time out for rest and reflection is an important aspect of Positive Psychology and personal wellbeing – both greatly valued at Fenero.
We've taken time out to reflect on our 2015. It's been another busy and a positive year for Fenero and we would love to share some of these moments with you.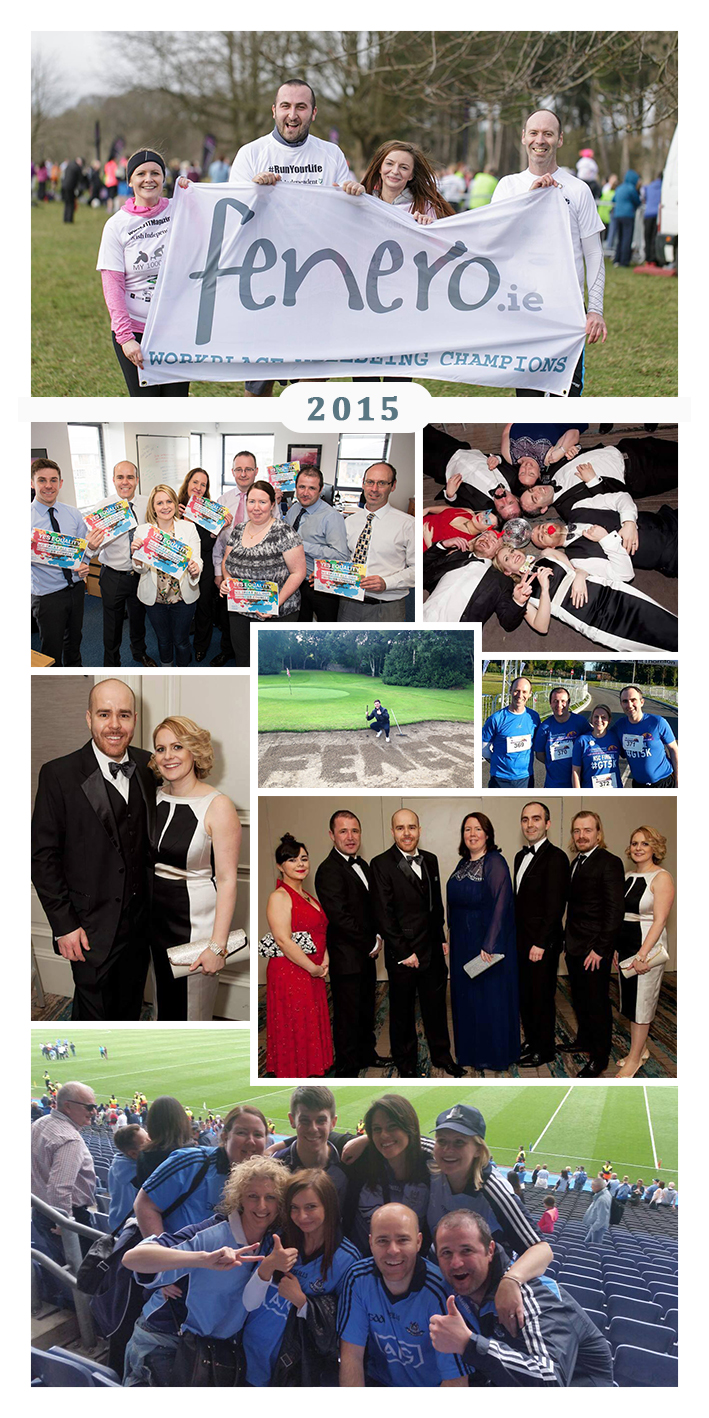 This year we:
Moved into our new much larger office premises to make space for our growing team
Maintained our low, competitive fee structures – contractors can still save €1,440 per year switching to us from some of our competitors
Were proud to become one of IBEC's Nutrition & Health Foundation's Workplace Wellbeing Champions for Ireland's 1st National Workplace Wellbeing Day
Launched our unique health and wellness supports as a free benefit to our contractor clients
Added new guarantees to our contractor Money Back Service Level Guarantee – we guarantee turnaround times on issuing sales invoices and making salary payments, or your money back
Were thrilled that our CEO Sinead was shortlisted in the IMAGE Magazine Businesswomen of the Year Awards in CEO of the Year category
Established our long term partnership with the wonderful organisation Soar, a charity working towards helping young people to thrive, believe in themselves and fulfil their true potential
Worked on our health with Fenero's Year of Fitness – participating in 5k Runs and running Employee Health Check Days
Had a great day out supporting our very own Fergal Smyth as he refereed the Leinster Football Minors match in Croke Park
Were a Business 4 Yes! And proud to support the Yes campaign in the Marriage Equality referendum
Were nominated for Blog of the Year at the Digital Media Awards
Became members of the PCSO, the Irish body for professional contractor service providers, seeking to promote and ensure quality standards within the umbrella company sector
Some of Our Team's Best Moments of 2015!
"Moving to our lovely and spacious new office!"
"Beating Dave several times on Wii golf was particularly enjoyable!"
"The obvious ones for me are the big move and the growing numbers of staff along with the company continuing to grow."
"Fergal's achievement of refereeing the Leinster Minor Football Championship final between Kildare and Longford. The support he received from the company, our day out…that was GREAT!"
"Being involved in some of Soar's events was also very rewarding."
"The cherry on the cake for me is having the opportunity to work with such an amazing team! I am really grateful for everything WE have achieved this year and I wouldn't have gotten anywhere without the help of all my colleagues."

Wishing you all a wonderful Christmas and all the best for a fantastic 2016!